Badham Pharmacy finalists in Gloucestershire Apprenticeship Awards 2016
Badham Pharmacy Limited have been announced as finalists in the Gloucestershire Apprenticeship Awards 2016.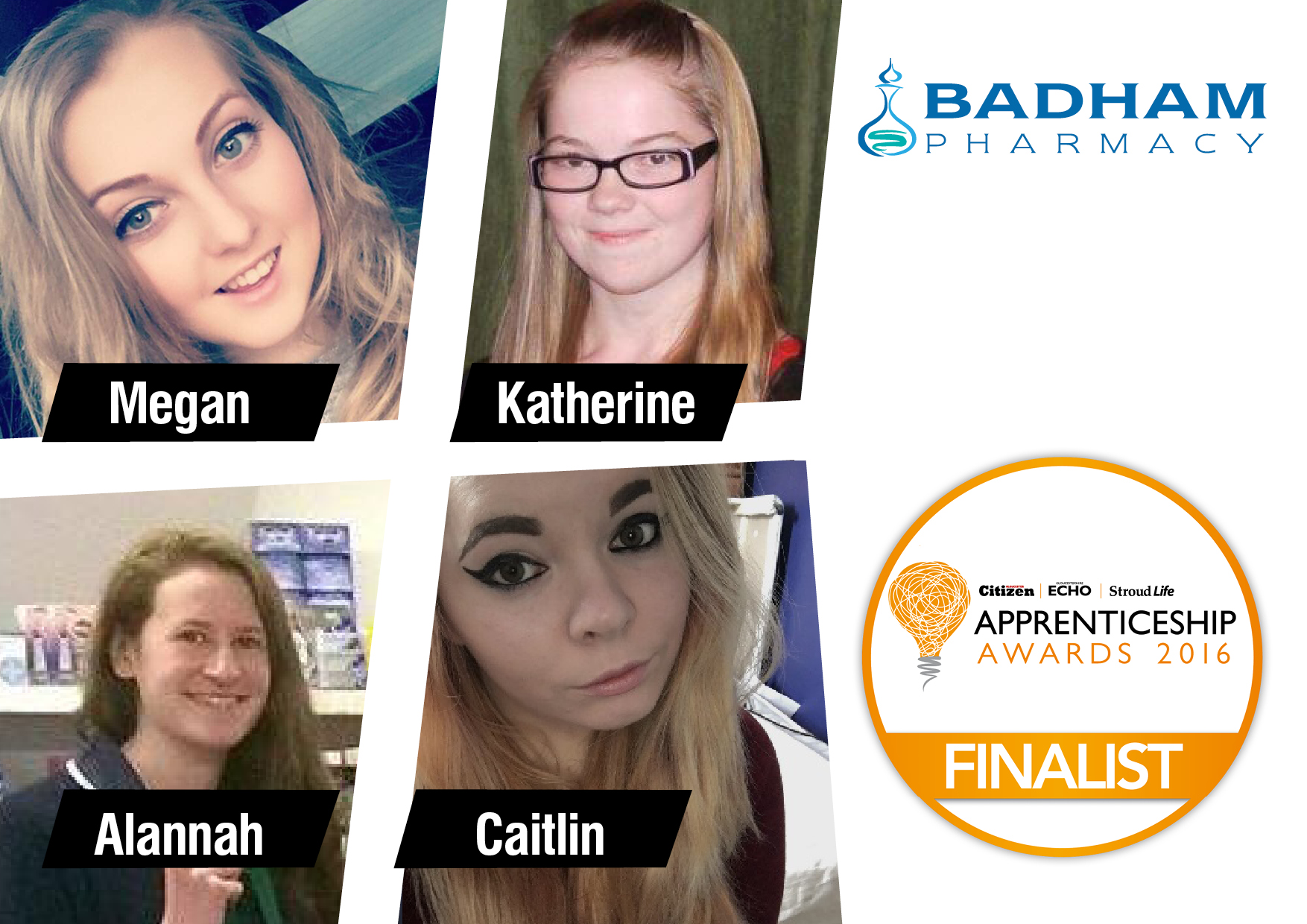 We have been nominated for Employer of the Year (25+) alongside CM Downton and Amey Highways Gloucestershire, a category sponsored by electrical contractor Clarkson Evans.
The award ceremony will take place at the Cheltenham Racecourse on July 7th 2016.
This is a very exciting event for Badham Pharmacy. Attending will be Badham Pharmacy directors, Peter, Lin and Charles Badham, our CFO, Cathy Morgan, our head of HR, Cherie Andrews and our four apprentices, Alannah Hyett, Katherine Darby, Megan Danter, and Caitlin Dalton.
The apprenticeship scheme now makes up an important part of the Badham Pharmacy workforce. We spoke to Cherie Andrews about the implementation of the scheme and the upcoming awards;
What inspired you to begin the apprenticeship scheme?

We had some difficulty in filling dispensary vacancies and we thought it was time to 'grow our own' employees. We wanted to bring in young, untrained employees who were enthusiastic and give them a chance to learn new skills.

Why did you decide to nominate us for the Gloucestershire Apprenticeship Awards?

Badham Pharmacy is committed to staff training and we have achieved the IIP (Investors in People) Silver award. This puts us in the top 2% of companies undertaking the IIP assessment. At Badham Pharmacy, we really value having a broad age range across our staff as we find apprentices contribute with new ideas and different skills.

What would winning mean to the company?

It would be a confirmation of our commitment to training our staff and creating opportunities for young people to help them grow and develop their talent.

Anything to add?

It's important for young people to have the opportunity for an option which isn't Sixth Form or University if they're unsure about what they want to do with their future. Badham Pharmacy is still actively recruiting for apprentices age 16-19 for both retail and dispensing positions.
Badham Pharmacy has employed five apprentices to date, four of whom still work in the company:
KATHERINE DARBY
Age: 20
Started: Oct 2014
Works at: Church Road Pharmacy, Bishops Cleeve MCA
Course: NPA Dispensing course, Customer Service NVQ 2
MEGAN DANTER
Age: 18
Started: Aug 2015
Works at: Head Office
Course: MCA, Business Administration NVQ 2
ALANNAH HYETT
Age: 18
Started: Sept 2015
Works at: Newnham-on-Severn Pharmacy
Course: MCA, NPA Dispensing course, Customer Service NVQ 2
CAITLIN DALTON
Age: 19
Started: Jan 2016
Works at: Head Office
Course: Trainee MCA, Retail Knowledge (Visual Merchandising) NVQ 3
For any more information on apprenticeships or our current vacancies, please contact Head of HR, Cherie Andrews, on 01242 898712. If you're considering applying for an apprenticeship but would like to talk to a current apprentice about their experience, we will be more than happy to talk with you.