Kick-start your career in pharmacy with the No.1 Family Business in Gloucestershire
We are offering Retail & Dispensing Apprenticeships to ambitious young adults aged 16 – 19 years who want a real career, not just a job.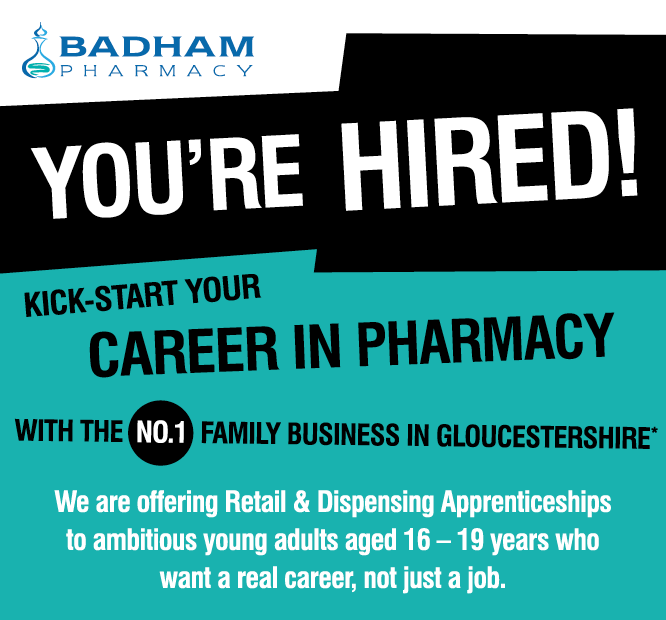 Working and learning with great colleagues in an award winning family business you will undertake dispensing training through the National Pharmacy Association and customer service skills provided in partnership with Gloucestershire College.
This is what one of our current apprentices has to say about working with us;
"Since joining Badham Pharmacy in January, I've felt increasingly more confident in my abilities as a young employee and have been greatly supported in my role. I have never done anything like this before and the mentoring I have received has been second to none. When I ask questions I feel like my concerns are genuinely listened to by everyone and I have never once been told I am wrong with no explanation or without help to correct my mistakes. The team are incredibly supportive of the apprentices here and it was very easy to fit in and make friends, which is encouraged. I am only 4 months in to my apprenticeship but I am honestly having an amazing time learning an entirely different job role to any I thought I would ever have, and am very excited about the prospect of my role growing within the company."
Badham Pharmacy was recognised in 2015 as the No.1 Family Business in Gloucestershire by Gloucestershire Business Awards & Cotswold Life Magazine.
How to apply
Visit our careers section for more information on how to apply for this role.