Head Office apprentices, Caitlin and Megan
Continuing with our Apprenticeship Spotlight during the run up to the Gloucestershire Apprenticeship Awards 2016, this week we're focussing on our Head Office apprentices, Caitlin and Megan.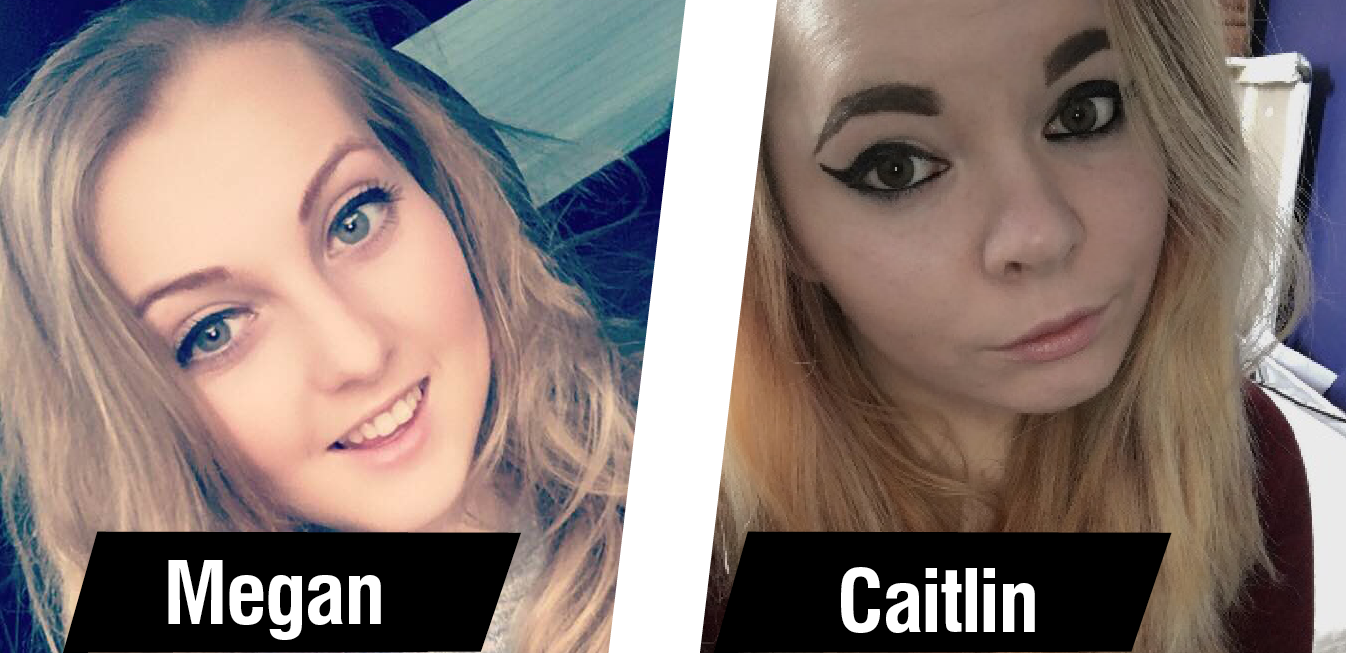 MEGAN DANTER
Megan has worked for Badham's since she was 15, starting out as a Saturday girl in Church Road before starting a Business Administration apprenticeship in Head Office. She was a pupil at Cleeve School before doing a Level 3 Health and Social Care course at Gloucestershire College.
CAITLIN DALTON
Before starting her apprenticeship in January 2016, Caitlin was a bar assistant in a hotel alongside doing her A Levels at Gloucestershire College. She studied English, Psychology and History, and was previously a student at Balcarras School.
What apprenticeship are you doing?

Megan: I'm studying a Business Administration NVQ 2 and in September I'll be starting my AAT course in order to become a qualified accountant!

Caitlin: I'm studying my NVQ 3 Retail Knowledge, with an emphasis on visual merchandising.

Why did you choose to do an apprenticeship rather than go to Sixth Form, University or go straight into work?

Megan: I chose to do an apprenticeship as I'm an active learner. I was keen to get some real life experience and earn money while doing training, so I knew an apprenticeship would be the best educational path for me.

Caitlin: I actually kind of fell into the apprenticeship scheme, after my plans for university fell through. I applied for the buyer position in December and Cathy decided she wanted me to take the job but as an apprentice so they could 'grow their own' buyer.

How did you hear about Badham's apprenticeships?

Megan: I was a Saturday girl in Church Road when I heard about the apprenticeship through word of mouth, so I wandered over the road to Head Office and asked if they had any apprenticeships they would consider me for.

Caitlin: I'd never considered apprenticeships as an option for me as I thought I was going to go through the usual education process (School, Uni, Job). The first time I considered it was when I was offered this job.

What did you do before your apprenticeship? (if school/work, where?)

Megan: Before I started my apprenticeship I worked at Badhams for two years on the side of school and college, in their Church Road branch as a medical counter assistant. I completed my MCA training at Badhams. I did a Health and Social care level 3 course at Gloucestershire College at the Cheltenham campus. I did a work placement at a preschool and I carried on doing work there alongside my Job at Badhams after I finished college.

Caitlin: I was a bartender at a hotel alongside completing my A Levels in English, History and Psychology. Before that I worked in Lettings Negotiation and as a shop assistant in Primark, but the last few years have mainly focused on my education.

What's your dream career and how is your apprenticeship helping you work towards this?

Megan: I want to be an accountant, so by doing a Business and Administration course I can learn how an office works, and I've also been given the opportunity to use specialist software which will help me in the future.

Caitlin: My dream career is actually a Forensic Neuropsychologist, which is obviously a bit different! But since starting this apprenticeship I've been considering eventually going into freelance merchandising, which could be an interesting route to take. I'd like to learn as much as I can through the experience I'm getting here.

What do you plan on doing after your apprenticeship?

Megan: I'm going to start my AAT course and work within the finance team to progress my future within an accountancy role.

Caitlin: After my apprenticeship I'm hoping to start a degree course in Forensic Psychology, but continue working within the company in my role as the retail merchandiser.

And finally, why would you recommend doing an apprenticeship to other young people who may be unsure of the route they want to take?

Megan: You get the opportunity to earn money whilst learning and developing new skills and gaining experience. You will have a higher chance of success in your future career if you're prepared to put in the work. You also get treated with respect and valued as part of the company.

Caitlin: I hadn't considered it an option as I was very set on going through the normal route of school, uni, job etc, but since being given the opportunity my opinion on apprenticeships has done a complete 180. Apprenticeships offer attainable qualifications for young people who are unsure about their future or have had setbacks which require you to rethink your plans.
As Megan and Caitlin work in Head Office, Cathy (CFO) and Cherie (HR Manager) have a daily insight into how both girls are progressing. Cathy is both the girls' line manager and Cherie is the mastermind behind the apprentice scheme, so we spoke to both of them about their progress.
How has your apprentice improved in the time they've been working with you?

Cherie: Caitlin has adapted extremely well to change in type of work. She has embraced a new role in the company with enthusiasm and determination. Caitlin also understands that not everyone will see that the retail sales are important and the promotions are vital for the increasing non dispensary/ ethical income.

Megan is self-motivated in taking on a different role as a junior head office staff member from working part time in the shop. She has proved herself as a valuable member of the Head Office team. Megan has moved into a self-assured individual with excellent ideas and energy to undertake difficult tasks.

Cathy: Megan's written and spoken English have improved dramatically since she started work in the office. She has also taken on board the production of sale invoices for our rental properties and has begun to learn about credit control.

Cait came to Badham Pharmacy with little retail knowledge and no buying knowledge. However, what she did bring was enthusiasm and a natural flair for merchandising. The retail buying element for Badhams is a huge task, and she has already re-merchandised our Stoke Road and Churchdown shops.

What has the apprentice programme meant in terms of helping the office run smoothly?

Cherie: Megan works hard as part of the Head Office team, often taking on tasks and projects which are time critical. A large part of her job involves liaising with the branches and she takes responsibility for the company's stationery orders.

Retail sales and merchandising are a key factor in increasing profit within the branches. Caitlin has brought fresh ideas and has helped to generate enthusiasm about products and improved the visibility of the branches in the company through the use of social media.

Both girls have been instrumental in advocating the use of social media to improve company visibility and they have both taken a leading role in this.

Cathy: Megan has proved invaluable to me in my ever widening role. She has helped me become more productive by organising my filing more logically. Within the Head Office team she is always on hand to ensure that the phones are answered and visitors met in a professional manner.

The retail buyer and merchandiser has a very important role in the company, ensuring that we have the right stock in place for people to buy. Cait has a great rapport with the staff and is gaining knowledge from the more long serving members of staff.

Are you proud of your apprentice and what they have achieved?

Cherie: Having initiated the apprenticeship scheme for the company, seeing the transition from new starter to confident employee in a short time period is absolutely wonderful. When assignments are passed and confidence grows I am so pleased for them. I see them blossom when their achievements are recognised.

Cathy: I am very proud of Megan and Caitlin. Megan has almost completed her course in a faster timescale than expected. She has taken on board constructive criticism about her written and spoken style and worked hard to improve these. Caitlin has grown already in her knowledge and understanding of the business, and sometimes I find it hard to believe she has only been here for less than 6 months.
For any more information on apprenticeships or our current vacancies, please contact Head of HR, Cherie Andrews, on 01242 898712. If you're considering applying for an apprenticeship but would like to talk to a current apprentice about their experience, we will be more than happy to talk with you.